Want better attention? Jump to position zero, yes, it is the new number one. Google adds new search features to enhance the search experience. Google aimed at refining the search results.
Google rolled out the new search feature in 2014 to promote the organic rankings, and the best part is that you get your website on the first page of Google. Let's understand what Google has to say about snippets:

"When a user asks a question in Google Search, we might show a search result in a special featured snippet block at the top of the search results page. This featured snippet block includes a summary of the answer, extracted from a webpage, plus a link to the page, the page title and URL."

A snippet of the article is extracted from the article and bolded, along with the article's title and URL. See an example of a featured snippet from a Chicago moving company website answering the query "disadvantages of living in a big city":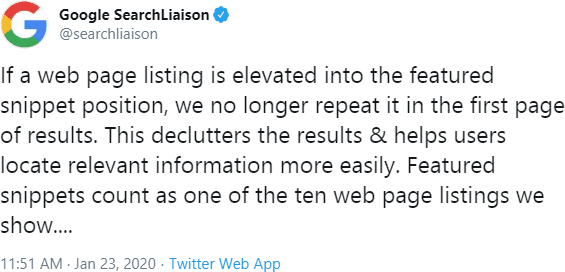 Well, there had been specific changes in the pattern that suggests that websites with featured snippets will no longer be repeated in the search results.
What Does This Mean to MOZ?
First, a product announcement. In the past, we treated Featured Snippets as stand-alone SERP features — they were identified in our "SERP Features" report but were not treated as organic due to the second listing. As of Saturday, January 25 (shout-out to many of our team for putting in a long weekend), we began rolling out data that treats the featured snippet as position #1. SERPs with featured snippets will continue to be tagged in SERP Features reporting, and we're working on ways to surface more data.
Google's Way of Counting 1 to 10 & the Monopoly of Double Sippets Explained!
Google terms featured snippets as position zero. Previously the websites from the first three links among the 10 sites which are shown on the first page could also be one of the same. It somehow means that you would have two links for your website on the first page of Google, which creates the space for monopoly in SERPs.

However, this pattern has changed where Google no longer gives two snippets of a single website. As the site is already included in the featured snippets, which means it has a specific position in SERPs. Hence, it will now no longer have a normal position.

According to Google's Danny Sullivan, "If a web page listing is elevated into the featured snippet position, we no longer repeat the listing in the search results. This declutters the results & helps users locate relevant information more easily. Featured snippets count as one of the ten web page listings we show."

Now the question is how would you deal with SERPs with two featured snippets?

Danny Sullivan said, "Deduplicate both. The whole page two stuff, by the way, people shouldn't get hung upon. It's about deduplicating on the first page. It's not always guaranteed the URL will somehow come back up on the second page." Moreover, he said, "It's not always guaranteed the URL will somehow come back up on the second page."

The critical point to be noted here is, if your website already appears on the featured snippets, this doesn't necessarily mean that you will not appear at the top of page 2.
What Will be its Impact on the Traffic?
After this new update on January 23, the websites that owned the featured snippets will no longer be shown on the first page and will rank according to their original rank. Well, talking about the impact on the traffic, it would be slightly difficult to assess the overall impact. However, some SEO's perceive that it will certainly lower their CTR.

What Can You Do?
Start with identifying the page on your website that triggers snippets, for which you can track the keywords that trigger snippets. This helps you to understand the ranking pattern of those keywords.

Once you identify these keywords, you will get to know whether you will remain in featured snippets or not.

Use No-Snippet Tags

Featured snippets act as an informational matter for queries that can lower your CTR. You would surely not want your website to appear in snippets. So, if you are looking for a way out, then thankfully, Google has released a no snippet tag that will prevent your webpage from appearing in the snippets.

You can use this no snippet tag to block snippet rankings. Moreover, you can also prevent a part of your text from appearing in the snippets. It allows SEOs to exercise control over pulling out specific information in the snippets.

Use FAQ Schema

If you want to capture clicks from SERPs, you can use FAQ schema to provide valuable information to your users, which will eventually increase your rankings.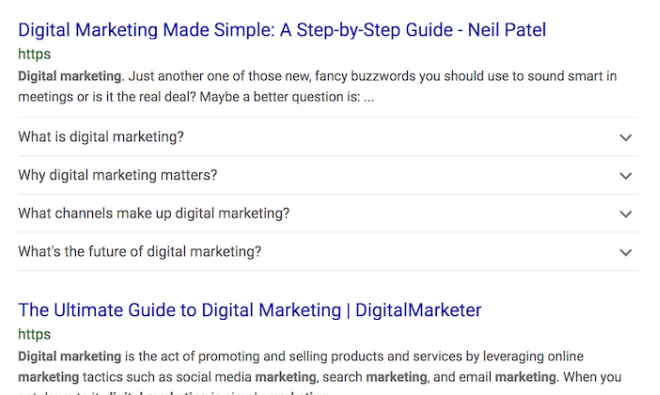 Websites that rank two just below the featured snippets can use it to distinguish their webpage further and drive traffic. Moreover, it would be better to use FAQ schema as it will better answer the search queries because you will serve your users with the exact answers they need.
Organize information to make it accessible
If you carefully look at Google's latest action and its pattern that has been shifting from a few months, you will notice that it is emphasizing more on providing direct answers. Well, this seems logical enough; now, you need to organize the information in a way that everyone can access it easily.

The search engine giant is officially going to stop obeying robots.txt noindex directive starting 1 Sep 2019. Publishers still using robots.txt noindex directive will be required to use an alternative to stop Google from crawling or indexing their pages. According to the company, Google never documented unsupported robots.txt rules such as nofollow, crawl-delay, and noindex. And since Google Bots used to support it unofficially in the past, it will not be the case hereafter.

Google announced to withdraw robots.txt directive support on 2 July 2019, through a post on Google Webmasters Blog. The company confirmed that robtos.txt noindex was never officially supported by Google and starting today, the crawlers will also stop supporting it. Google shared the blog through twitter bidding its goodbyes to the unsupported robots.txt rules.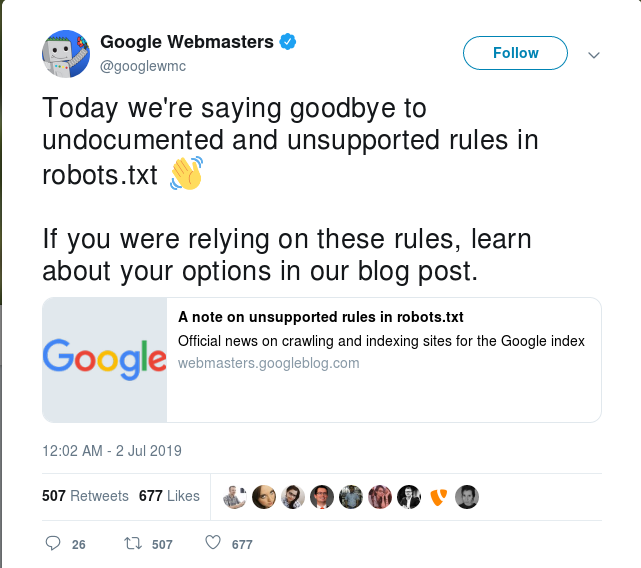 Alternate Ways From Google to Control Indexing
Google published 5 alternative methods to control crawling on its official blog:
Noindex in robots meta tags: While robots.txt noindex is no more supported, meta tags with noindex directive in either HTML header codes or HTTP response headers have become the most effective way to stop URLs from indexing.
404 and 410 HTTP status codes: These status codes inform the search engines that the page on respective URL does not exist. Google automatically drops these URLs after crawling them once.
Password protection: If a page is hiding behind a login, Google will drop it from the index unless the password protection indicates either paywalled content or subscription.
Disallow in robots.txt: If the search engines don't know about a page because they were blocked from being crawled, it implies that their content won't be indexed. Search engines may index a URL if other pages have links to it but Google aims to make pages less visible if the crawlers cannot see the content.
Search Console Remove URL tool: The tool is widely known for temporarily removing a URL from Google's search results.

Make sure you are not using robots.txt noindex on any pages. If you are, we recommend you to immediately use one of the above-mentioned methods to avoid your pages from indexing.

Anyone pondering the fact that links still have the power to affect rankings should understand the significance of backlinks on their webpages. Though Google considers many factors while ranking a webpage on SERPs, the authority of your webpages and domain are major ones. According to recent research from BrightLocal, 89% of the local SEO experts still use link building ahead of any SEO strategy for their local business clients. And 100% of them think that link-building certainly helps in getting higher ranks. Over time, SEO experts have strongly suggested businesses to include link building in their SEO strategy. What was a suggestion before, has now become a piece of advice since SEO experts believe that link building will be an efficient SEO practice for many upcoming search engine algorithms.
If you do not want to fall further on your search engine rankings, start investing your time and effort in high-quality link building. Instead of exploring if link building has a similar influence, you should be looking for how to build high-quality links. On that note, let's roll down to the top trending link building strategies.
1. Link the Unlinked Brand Mentions
It's unfortunate that a lot of customers talk about your services or products on the internet but forget to link your website. Therefore, you can start by tracking down those numerous unlinked brand mentions.
With the change in time and technology, several tools emerged to unlinked brand mentions. And one such tool is Awario that lets you track your mentions.
How To Do It
Create a new alert on Awario, enter the keywords you want to track, and the tool will promptly give you the full list of mentions.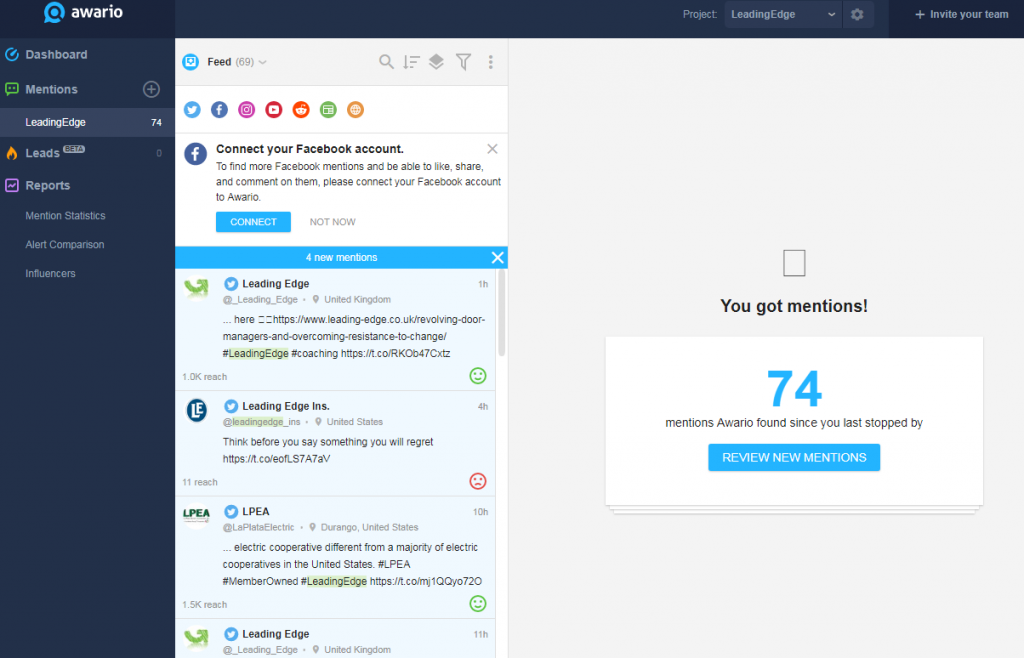 Now spot the ones not linked and get in touch with admins/editors of the portals for minor linking adjustments for your brand.
In case you couldn't find their email addresses, there is always a useful tool such as hunter.io.
2. Cover Hot and Trending Topics
The classic link building exercise that can earn you a fair amount of backlinks- creating content on trending or hot topics. When a new topic arrives in the digital space, make sure you become one of the first ones to cover it over the internet.
Considering that there is not much data available on the internet related to that topic, and assuming that you successfully capture relevant content in a quick time phase, you will earn numerous backlinks from several websites.
3. Link the Broken Links
Arguably one of the easiest link building strategies is to build links on broken links. Links are all about adding value to someone's website. Informing someone about broken links on their blog can work in your way if you have the ideal replacement for these broken links.
To start the process, you will need a FREE Google Chrome extension called Check My Links.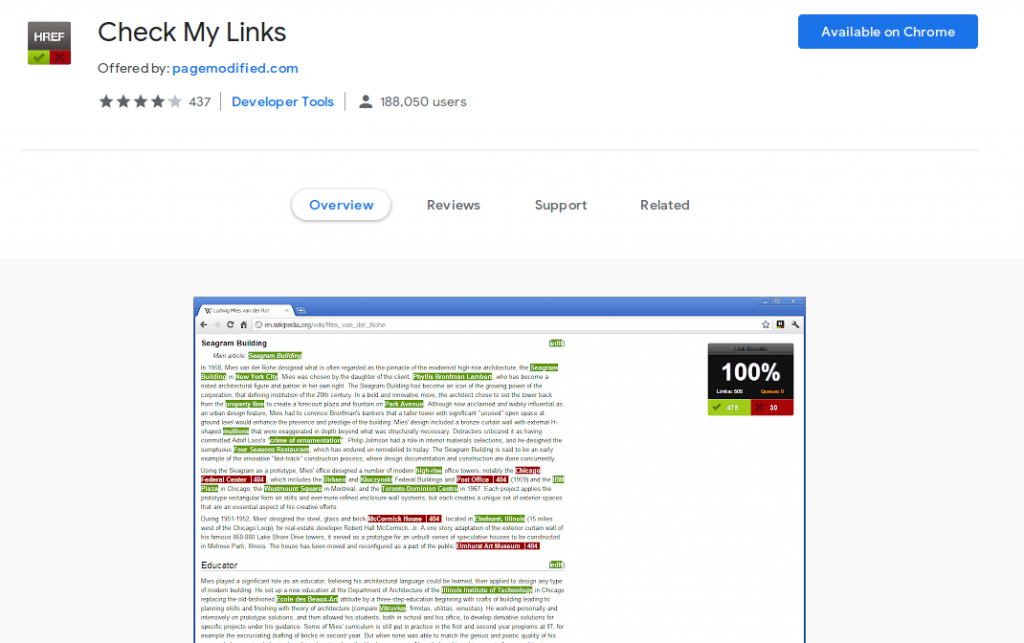 STEP 1: Look for a few relevant pages with several outbound links. Get a handful of resource pages with thorough research. Take your time and spend time on Google to find the top articles in your niche. You can try this search engine operator on Google- Weight Loss "top articles", which will look something like this.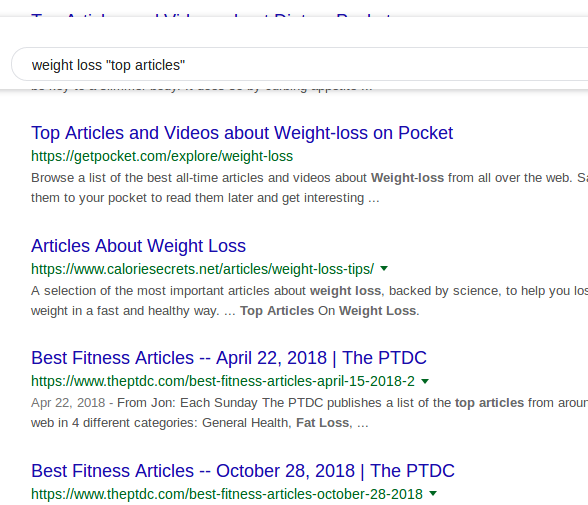 STEP 2: Get it through the Check My Links tools and you will have many broken link opportunities.
STEP 3: It is time for you to develop relevant content for these broken links. Do not compromise with content quality.
STEP 4: Now all you need is a friendly blogger-to-blogger email. Provide the bloggers with a screenshot of their broken links and also offer them a solution with your relevant links.
4. Never Old: Guest Blogging and Linking
Guest blogging has been the best link building strategy for many years, period. While you can try all the magical spells and use all the fancy tools, they cannot replicate the effectiveness of link building through guest blogging.
You may already know how guest blogging works but we can help you with effectiveness. Here's a step-by-step guide to earn high-quality links through guest blogging.
NOTE: It is important to know that a link in the body is way more efficient and powerful than a link in the author bio. But, you have to be very careful and selective while creating backlinks
The most crucial part of this top link building strategy is to find guest blogging opportunities.
First, make sure the guest blog has a decent domain authority. You can use SmallSEOTools- Free Domain Authority Checker for this.
Next, whether the blog portals provide do-follow or no-follow.
Assuming that you have a ladies' fashion blog, you can use these search strings to get relevant portals for guest blogging.
Write for us + ladies fashion
Ladies fashion + "guest post"
"Guest post by" ladies fashion
Ladies fashion + submit a guest post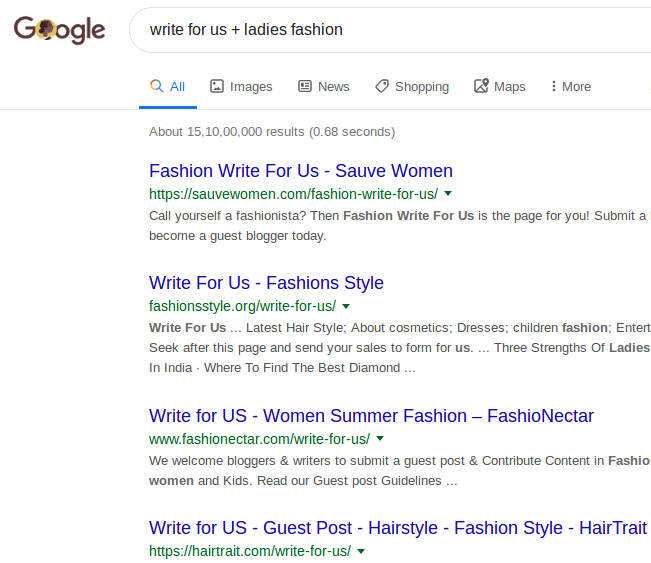 Once you have some relevant and quality guest blogging opportunities, it is time to write a decent email for the email outreach. Do not follow the usual email script. Instead, pitch a decent and personalized script to increase the conversion rate.
While talking about successful SEO strategies and inbound marketing campaigns, the very first FREE Google tool that comes to your mind is- Google My Business. For local businesses, it helps in managing their online presence in Google search results and Google maps.
We at Leading Edge Info Solutions, offer you an outstanding Google my business page optimization service so that you can improve your online appearance in front of your aspiring local customers. With a sheer vision of serving best SEO services and marketing tactics for our customers, our skilled SEOs optimize your GMB page at its best. We regularly keep posting interesting contents on your profile so that your business remains on top of Google searches related your niche business.
Read top 5 steps or tips that we use for optimize your Google My Business Page in 2019.
5 Steps for Optimize Your Google My Business Page
– Fill-in your business information along with a clear, short description.
– Upload catchy, better quality images.
– Response to each review.
– Regular postings for promoting offers, events and other content related to your business.
– Create videos and upload them.


We completely fill the valuable information related to your niche business that customer wants to know like: Business name, business type, phone number, address, hours of operation, website link, images, Google maps links, times to visit, reviews, overall ratings, related searches and much more.
This compact knowledge box is enough to give all information about your niche business for online customers. Your GMB posts also appear here. We generate valuable, catchy posts and events for your business so that more and more people find it interesting and come to your business website. It helps you to gain more convertible traffic by increasing a streak search-visibility. Want to give your buyers a better shopping experience? Then contact us for optimizing your GMB page now!
Since Google has allowed to publish posts on its popular platform, Google My Business (GMB) using website or any of its app version for Android or iOS devices. It gives industries, organizations, & non-government services a platform to mainstream their businesses and services by publishing their GMB posts.
We at Leading Edge Info Solutions provide top-notch web-solutions to our valued customers. From website optimization to digital marketing services, we ace the industry by our phenomenal strategies and cutting-edge solutions. Especially, we are renowned name in offering result-oriented Google My Business services to our global customers, and are continuously satisfying them since years.
One of our client has a non-profit organization based in Boston which was not getting enough exposure. We created a GMB account for him and regularly started featuring some valuable GMB posts for his organization. With each our post, we try to enhance web user interest in local search trends and his business.
Right after two months of our consistent GMB posts publishing, we have started getting overwhelming responses for the client's GMB page. The GMB insights revealed a lot of difference had been found for his page in Discovery Searches, Views on Map, Views on Search, Direction Requests etc. Every week, we were getting more and more exposure with our posts. It helped a lot for our client to streamline his work and services to thousands of web-audiences with minimal effort.
Our tech-professionals use their knowledge base and skills for improvising the client's GMB's actions, every time. The whole effort brought a fruitful result in the form of huge website traffic for that client. Therefore, it is worth to make an investment for our GMB services that will help your website to generate quality traffic. As businesses need more traffic to convert them into sales. We are happy to hear from your side!
The whole world is googling. From selling pens to booking flights, every time we end-up by using the tech-giant, Google. Businesses find it beneficial and have started launching their websites so that they can target more and more people. Interestingly, Google ever-changing algorithms also grab the attention of marketers and SEOs, in the same way.
If you are a website-owner who wants to get better ranking for his website. Read the following 5 steps for doing better keyword research. Also as a bonus, understand Google metrics which help in executing right digital marketing campaigns for your business.
A COMPREHENSIVE GUIDE

What Does Keyword Research Really Mean?
Keyword research is nothing but an initial practice performed by SEO professionals. In this, they need to identify words and phrases related to niche business or services which are popularly search by people.
Is It That Important?
Yes, it is a crucial task which help SEO experts to analyze people behavior and interests in-depth. Based on which they optimize business websites so that they can get some "real traffic".
How To Perform Best Keyword Research For SEO?
Learn how SEOs optimize websites for getting higher ranking in Google's searches in the following 5 steps.
Step# 1 DIG-OUT SEED KEYWORDS
Define your niche and identify your competitors by some single word keywords or topics that are related to your business (and obviously, do search by people). For example: if you want to promote your pizza business on the internet, named as joepizzashop.com then group the "seed keywords" that are suggested by google searches. Like:
Joe's pizza shop,
Joe's pizza shop limoges menu,
Joe's pizza shop limoges,
Joe's pizza shop menu etc.
Step# 2 GENERATE RELATED KEYWORD IDEAS
Although you have figured out some seed keywords. Yet you are far away to reach your goal. As you can never read the audience's mind completely, it takes practices to evolve your own list of new keyword ideas. But start with doing some homework finding closely related keywords or topics which are mostly search by people (on Google).
PRO TIP 1# Consider the following two fields while generating keyword ideas for your business.
Identify keywords for which you already rank.
Identify keywords for which your competitors rank.
PRO TIP 2# There may be few keywords you are missing, for which your competitors are ranking. Figure-out them all and try to add them on your most ranking page.
Step# 3 USE KEYWORD RESEARCH PLANNER
To nail the giant search engine, there are a list of SEO tools like keyword research planner which are absolutely FREE to download. Download any of them from internet and start exploring new keywords based on your domain. Some popularly used keyword research tools are-
GOOGLE, GOOGLE SEARCH CONSOLE, KEYWORDS EVERYWHERE, KEYWORD SHITTER, ADWORD & SEO KEYWORD PERMUTATION GENERATOR, GOOGLE CORRELATED, SUGGESTION KEYWORD FINDER AND MANY OTHERS.
While planning the aforementioned strategies, there are more chances to get confused with hundreds of random popping keyword ideas. Understand keyword metrics by knowing following useful terms:
Search Volume tells the exact number of searches performed for a particular keyword by web users.
NOTE: You can use any keyword research tool for getting accurate search volumes. Most of them take statics from people trusted source of information i.e. Google.
Clicks showcases the conversion rate of web users that are coming to your website. It's quite tricky to let audiences reach to your website, as Google Ads generally steal some of your traffic.
EXAMPLE: Suppose, you are getting top 5 ranking for few keywords. But it doesn't guarantee you that people shall click on your link and open your website. May be some of them get diverted by some fancy ads that randomly pop-up on their screens.
Traffic potential is a guesswork which displays the maximum number of potential traffic that one web page can get while ranking #1 on search results (for a certain keyword). You should plan your strategies to target the untapped potential keyword.
Calculate keyword difficulty score by using any of the above mentioned list of keyword research tools. And once getting it done, evaluate your keyword ideas' list with refined results.
Unquestionably, above search metrics are considerable to understand the traffic-nature and popularity of a keyword. So one who is willing to be an SEO at his own, should learn more about these factors.
Step# 4 GROUP YOUR KEYWORD IDEAS
Till now, you have got amazed by a list of promising keyword ideas. Now it's time to cut-down some of them using the aforementioned strategies & tactics. Let's organize your keyword –ideas by grouping them into 3 main categories:
Add semantic keywords and contextually related keywords under the "parent keyword" structure.
Know the audience's intent for searching something on Google.
NOTE: Try to understand what people want to get back from internet by searching something and queue-up the result of those related keywords for further usage.
Analyze keywords from which you are getting real ROI for your business. Shortlist your keyword-list by considering your business value.
PRO TIP# You should add a blog section on your website so that you can easily pitch semantically related keywords, without any hassle. Additionally, it helps web-audiences to stay on your page and more importantly, to listen to you.
Step# 5 AND LASTLY, PRIORITIZE
Finally, you have reached the stage where you can break the iceberg. Prioritize your keyword searches as per your business and potential traffic. Pick those which are the best possible options and bring some convertible traffic for your website.
CONCLUSION
In a nutshell, keyword research is a systematic approach that carries a wide-space along with it for getting potential traffic.

Hope this blog post will be helpful to you and give a structure to your marketing plans. It's no brainer- SEO professionals take practices for years to get expertise how to rank first on Google. Our team has highly-skilled SEOs who have years of work practices for different business sectors. If you are looking for getting #1 Google ranking, contact our technical assistant today!

The Google Ads publicizing program has progressed significantly as of late, giving sponsors numerous more apparatuses and alternatives. Be that as it may, these days, the market has gone aggressive, which is the reason it's vital to first get your work done before you begin posting your own particular promotions. You can utilize Ads to quickly achieve numerous potential clients anyplace on the planet. We will now take a gander at a portion of the preferences you can pick up by publicizing with Ads. Likewise that it is so imperative to have utilization Google Ads management to your own particular leeway.

One extremely supportive component of Google Ads is that it makes it easy to part test your advertisements and keep the best ones. Split testing is an essential practice for any individual who needs to perceive how their promotions are getting along and make better ones. If you were promoting in the pre-web age, it would have taken weeks or months to analyze diverse advertisements and see which was performing best. When you utilize Ads with the help of Google Ads Consultant, in any case, you can without much of a stretch think about various advertisements that are utilizing similar catchphrases. At that point, you basically drop the advertisement that isn't executing too and supplant it with another, which you additionally test, etc. You can build your benefits and changes by this procedure of refining your advertisements and keeping the better ones. Testing is the system that shields you from burning through cash on crusades that are not productive.

Another awesome thing you get with Ads is the opportunity to offer your own products and profit off of them. It's no lie, with Google Ads(PPC) you get the chance to drive totally focused on movement to your site. You could offer anything from a digital book to a product guide, or whatever else, and you get the opportunity to keep all the cash. It's likewise conceivable to have others offer your program through Ads by making them Affiliates. Super associates more often than not utilize Ads for their movement needs and they can get you a major number of offers effectively.

Check out these key facts about Google Ads to learn more about how Google ads can benefit your business.

1. PEOPLE WANT TO FIND YOUR ADS

It's a common belief that ads annoy internet users, so putting up a PPC is pretty much a waste of time since no one will want to click on it. However, people searching online actually do not mind coming across advertisements as long as the advertised services and products fit their needs. Furthermore, studies show that net users are more likely to click on PPC than any other kind of digital ads. With the use of Google Ads management, your ads will be tailored to fit the needs of your potential clients and stand a better chance of being clicked on by possible clients.

2. GOOGLE ADS TELL YOU VITAL INFORMATION

Google Ads informs you what people are looking for. If a certain keyword in your ad isn't working, it's likely that people aren't interested in it, or there is just so much competition for that word that your ad is getting buried. Google Ads can measure how much traffic you're getting from your ads to determine what people are looking for. They will also look for keywords that are both salient to your operation and of great interest to web users but aren't so common that your ad won't stand out.

3. YOU CAN SPEND LITTLE FOR HIGH RETURN

Each time your Google ads are clicked, a visitor is sent to your website and you pay a small fee to the search engine. With the help of Google Ads, your ads can be crafted to cater to people that are more likely to buy your product and service. And with a high-quality ad comes a good return. If a visitor clicks on the ad and you pay just ten bucks, yet it results in a four hundred dollar sale, the cost of the ad is peanuts compared to the sale the ad created.

4. WELL PERFORMING ADS GET HIGHER RANKINGS

Investing in Google Ads management to develop quality ads can also earn you additional incentives from Google that can keep your campaign going longer and even save you money. If your quality score is high, Google will reward you by lowering the cost per click, improving your ROI. Also, a higher score results in more displays for your ad, and it will be positioned better on the search page. These perks can lead to more clicks and conversions.

We at, Leading Edge Info Solution have more than 9 years of experience to deliver best results for your business. We surpass your competition by offering the latest digital marketing solution. To know more about our services, feel free to call us or visit us at: https://www.leadingedgeinfosolutions.com/

"Alone we can do so little; together we can do so much." – Helen Keller

The Highlights of the Month-End Get-Together – November 2018

Leading Edge believes in transforming Birthdays from hassle to happy. This is a way to let employees know that we always cherish their special day in a memorable manner.

The fun begins with the cake cutting ceremony of the employees. The birthday celebration was accompanied by the recognition ceremony, in which, every month, a star is announced. After the announcement of 'Star of the Month- November', a few words of recognition and appreciation were said for the deserving employee.

The celebration was accompanied by some fun games, Hide and Seek! This game brought back the fond memories of our childhood.

Can you just imagine playing Hide & seek at your workplace??

It was a complete 'LOL' moment for us all.

All the employees were able to look back to their childhood memories with this fun game.

The employees had a blast at this small gathering. We look forward to many more gatherings like this in the future.

Till then enjoy & stay tuned

Instagram will now remove all the fake followers, comments, likes generated by the Third-Party Apps!! The latest feature of Instagram is to remove the unecessary likes and the fake followers to keep it simple and honest.
The latest news is that Instagram is taking steps to limit the inauthentic activities on its network. The company announced that it will be removing all the fake followers, likes and comments from the accounts that use third-party applications to inflate their popularity.
Instagram is going to accompolish this through the use of machine learning tools that are built to identify such accounts. Accounts are identified as having used the third party applications to generate the inauthentic activity which will receive an in-app message notifying them that the activity has been removed.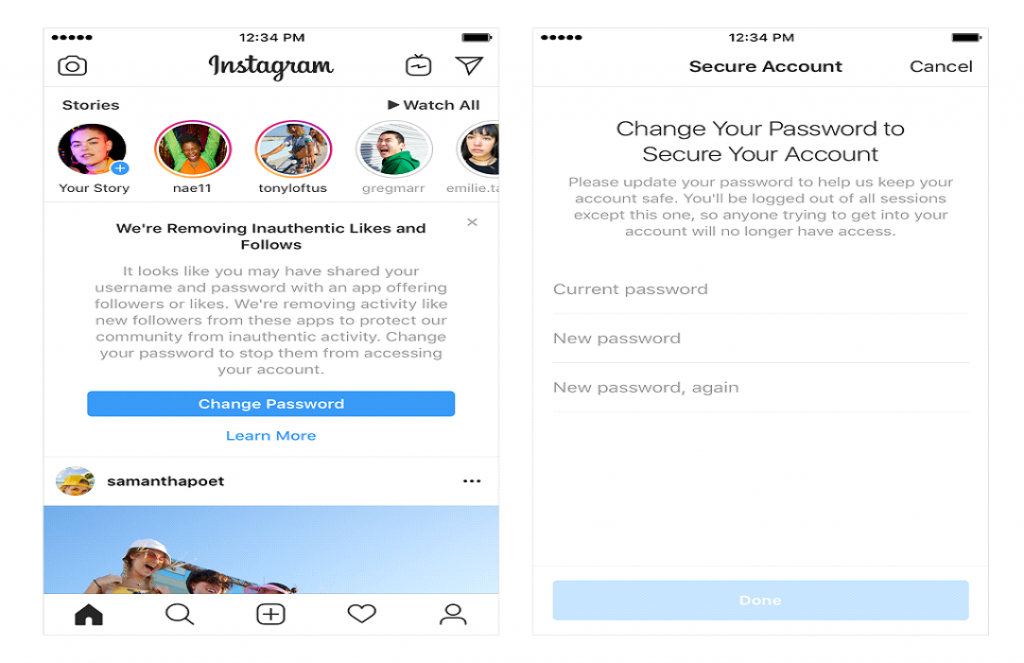 asked to change their password as well.


Accounts that choose to continue using third-party apps to bolster their perceived popularity may see their Instagram experience impacted, the company says.
Instagram did not specify what that means exactly, but my guess is the reach of those accounts will be limited.
The accounts may even be suspended, as third-party apps that generate inauthentic activity are a violation of Instagram's community guidelines.
Purging inauthentic activity will be an ongoing effort for Instagram, so this is not just a one-and-done occurrence.
This is just one measure the company is taking to reduce inauthentic activity. Updates on additional measures will be announced in the coming weeks.

Fun and Happiness are contagious and happy employees are the healthiest, so, at Leading Edge, we don't miss any opportunity to have fun at the workplace. We believe in investing time and efforts so that our workplace becomes an enjoyable place for each one of us. In our recent celebrations, we celebrated 'International Men's day' where we added some fun to break out from the monotonous routine of our work life.

On this International Men's day, we played a game named, 'GUESS WHO'!!

This was a total fun for all the Male Employees. The HR described the person in one line and then everybody had to guess which one was who!! Isn't it amazing!!

There were many one liners that sent ripples of laughter all around. Some of them were –

– Person with Golden heart but he has one special skill, being happy and angry at same time
– He is the new one who is coloring leading edge. He Seems to be a Big fan of Salman khan.
– He is a Health Freak, He knows what is good and bad for his team mates – The One who take care of everyone like family
– He is the Masti khor of our team, When it comes to craziness no one can beat him!!
All the women of the organization are thankful to the Male Employees of our organization for creating a positive and a safe environment for us all. It's a privilege for us to work with such kind, down to earth and genuine employees who have made us secure at all the stages of our workplace shifts. Whether its day or night, you have made all the things right.

Happy international men's day to everyone!!