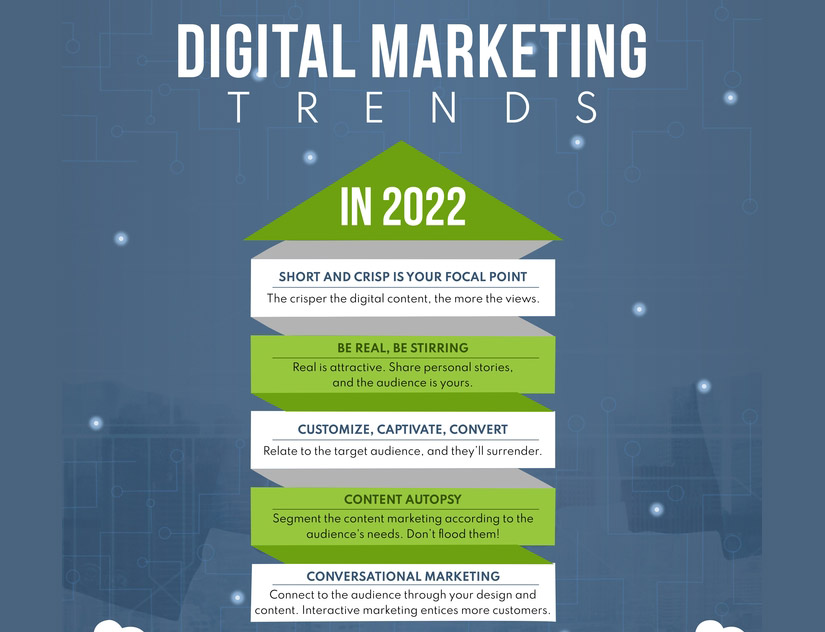 Reach, engage, convert and redefine your business growth with digital marketing!
Over the years, digital marketing has set new trends and ways to gain more audiences for businesses. Given the success of digital marketing, there are ever-changing new marketing trends every new day.
For businesses to successfully market their services and products, they must consider investing in a digital marketing agency. It is essential to gain more customers or users and give the best impression of your brand or business.
To stay ahead in this field, you need to know better and make smart efforts. Keeping up with the latest marketing trend means that your business is staying relevant to consumers. All digital marketing services in India are taking the extra step. So you should be making sprinting efforts to keep up with the latest marketing trends.
It can be challenging to keep up with marketing trends. This is why in this read, we have compiled the ten most crucial digital marketing trends in 2022. They are:
1. Using AI for optimization
Artificial intelligence is an expansion of computer science that is focused on creating machines with the intelligence of a human. The usage of AI by digital marketers has been 80% in 2020 and is growing.
It has proven to improve digital marketing as, according to Semrush, the annual growth rate of AI between 2020 and 2027 is forecasted to be 33.2%. Through AI, you can know how your marketing strategies are working as it helps you determine your user's view.
2. Enhancing your customer service
Communicating with your audience may sound like nothing new, but it helps a lot in providing conversational marketing. It also makes one of the most popular uses of artificial intelligence in the form of a chatbot.
Chatbots are vital in helping your customer and being reachable to them according to customers' convenience. Customers today want services that are accessible whenever they need them. Thus, the Chatbot that some of the best digital marketing services in India provides enhances your customer service more smartly without needing agents every day and night.
3. Email Marketing
It is one of the most powerful ways to perform digital marketing and expand your marketing message to a wide range of audiences. Email marketing is sending commercial messages to individuals who have been permitted to receive Emails from your brand.
Email marketing is not an exclusive marketing technique but is still an efficient way to engage new customers. With promotional emails, informative emails, and re-engagement emails, you can keep your customers engaged in a marketing way that is affordable and can be used for the longest time.
4. Market your business on various platform
A good impact of opting for digital marketing services in India also depends on how many online platforms you use to promote your business or brand. The more you spread the network to reach out to the existing and new customers, the more your business will be seen as a promising one.
While you are making the commercial promotion, it is important to acknowledge your targeted audience and choose online platforms according to that. For example, if you are selling products or services to a teen, your marketing should be done more on youth-centred apps like Instagram and youtube.
5. Mobile Marketing
It is another significant factor of digital marketing that is fundamental. Mobile phones are the most convenient medium of communication and can connect you with your customers. With social media platforms, email, apps, and websites, mobile marketing avails you of some of the best marketing benefits.
In 2021 mobile phones all over the world have been recorded to generate half the traffic on the internet. This justifies how effective mobile phones are in terms of being the best medium to help your business gain more recognition.
6. Authentic content
Authenticity in your content helps shape your mission of opting for the best digital marketing services in India. This helps you establish a meaningful exchange of information with your customer. It connects your business with the people who actually need your services.
The content in marketing can determine how honest and transparent your business is with the users. Thus with authentic content, you can garner the trust of people who usually do not like advertisements.
7. Search engine optimization
Search engine optimization is a potent way to help your website become more visible to your target audience by gaining more traffic. It entails all the factors that can help your business grow as it will have more reachability.
In SEO, the important parts are accurate keyword placement and original written content that states the marketing message thoroughly without any plagiarism or blunders in information. There are different types of SEO like off-page SEO, local SEO, and search engine marketing that help to market brands, services, sites, and products.
8. Sustainability
There are a large number of people worldwide who are concerned about the present climate condition. It is a factor that is influencing the purchasing habits of millennials and generation Z.You can connect to them with eco-friendly digital marketing techniques.
It is not for the sole purpose of portraying a positive impression of your commercial industry, but it can also help raise awareness of the concerning environmental issues.
9. Equity and Inclusion
These two terms comply with the understanding that your user's differences are acknowledged and respected. Your brand should possess a workspace that adheres to these social understandings.
As many people often trust brands that do not shy away to express their support for social causes like equity and inclusion. Many digital marketing services in India encourage better portrayal of social issues.
10. Privacy and trust-building
With the growing concerns about cyber security and cyber-crimes, many users became doubtful about digital marketing content. This is why digital marketers should ensure a solid privacy policy.
Trust building is only possible if digital marketers can provide transparent communication between company and consumer. To do so, you need to address the reason behind why the company requires the consumer's specific information.