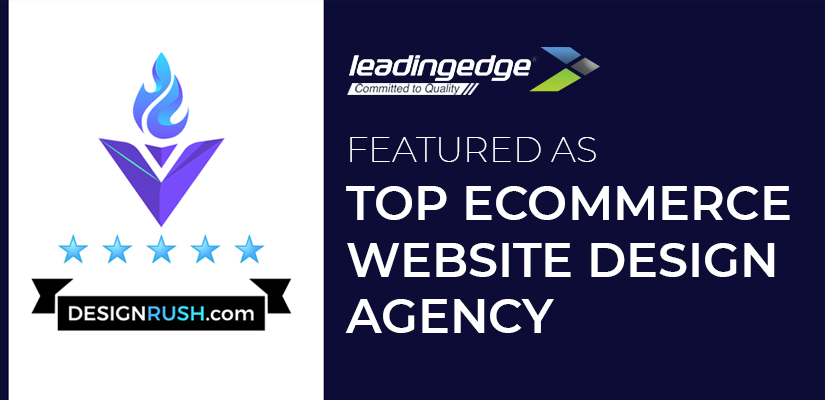 Mohali's leading website designing and development company, Leading Edge Info Solutions, continues to excel in the web design industry and successfully rule the eCommerce ecosystem. From scaling several online businesses to widening our client network across the globe, we have been solidifying our presence in the eCommerce website design landscape.
As we stepped into the new year 2021, Leading Edge Info Solutions achieved another milestone by getting featured among the top eCommerce website designing and Digital Marketing Agencies on Design Rush. While everyone was busy dealing with the global pandemic and implementing withdrawal strategies in fear, we were busy swiftly shifting our approach to help traditional retailers flourish their business online with eCommerce stores.
Top Ecommerce Website Design Agency on Design Rush
Design Rush allows you to find the best professional partners with trustworthy team members, required expertise, and a proven track record. The agency listing section houses the best agencies across the globe and users can further filter their search as per the area of expertise, top client reviews, team members, pricing structure, and more.
Business is all about staying up to date with the latest technologies. If you are looking for ways to take the business opportunities to the next level then you have come to the right place. Leading Edge Info Solutions isn't just another digital marketing agency as years of hard work and determination has finally given sweet fruits as Leading Edge Info Solutions has become a part of Design Rush.
Our experts possess detailed knowledge of digital marketing. We implement result-oriented and strategic digital marketing campaigns that bring quality traffic and huge returns on investments(ROI). Products are presented in a way that engages the customers and tempts them into buying.
Key Features of Leading Edge Info Solutions
Designing for Conversion
From website to PPC ads, social media posts, and more, LEIS is proficient in taking your business to the next level. Whether you are planning for a new eCommerce store or you already have one, our designing team can take your conversion rate to another level with engaging website designs, engaging social media posts, and eye-catching ads.
Accurate Analysis and Optimization
LEIS sets the base for any project through detailed analysis. Our team of experts analyze your business, devise strategies to maximize profit, and execute those conversion strategies successfully. Post-analysis, we ensure that everything is optimized and Our aim is to take the success graph to the pinnacle that the client desires for.
Extensive Brand Marketing
Widen the reach of your business among the customers with result-driven brand marketing tactics implemented by the experts. Step by step assistance is provided by the team of experts so that the goals are attained smoothly.
Conclusion
We at Leading Edge Info Solution aim to maximize your profit and get high-quality designs for your new store. We also enhance your search engine presence since every business dreams to rank on the 1st page of Google. By implementing the latest and effective designing, development, and SEO tools & tactics, we have helped thousands of small businesses.
LEIS takes pride in ranking among the top eCommerce website designing agencies on Design Rush and believes to offer optimal services in the future.